Young Glory Professional Winner
8 months. 8 briefs. 8 big name judges. 
In a nutshel, Young Glory is the only worldwide creativity competition devoted to creative consistency. 
And back in 2013, our ridiculously named team Invisible Pants won. 
For better or worse, here's every idea we submitted into the competition. I hope it helps future participants. 
We started off slow, but we eventually made it to the top and even won the opportunity to pitch our Petition Air idea to Sir Richard Branson in Montreal along the way. 
No biggy.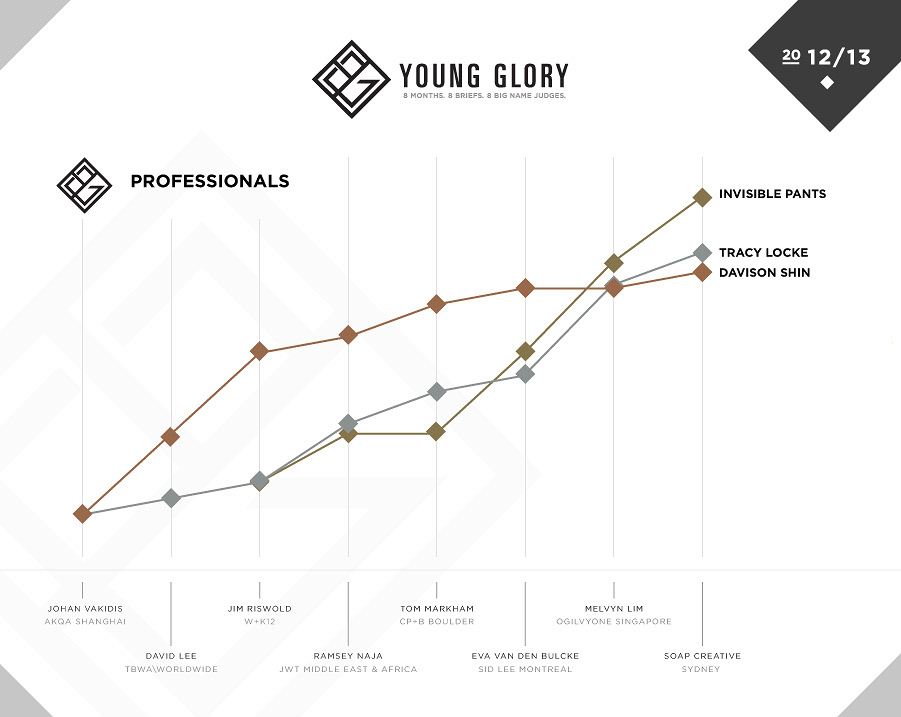 Brief 1: Google Green Shift + RSVP Speed Dating
Judge:
 Johan Vakidis, Executive Creative Director, AKQA Shanghai
Brief:
 Create a branded product or service to help overpopulation – effecting transport, personal space, and air quality
Brief 2: Emergency Mode + WOTIF Disaster Capacity
Judge:
 David Lee, Worldwide Digital ECD, TBWA\Worldwide
Brief:
 Reduce the effects of power outages, which result in the aftermath of catastrophes like Hurricane Sandy
Result: 
Not awarded
Brief 3: I AM ISLAM
Judge:
 Jim Riswold, Executive Director W+K12
Brief:
 Fix Islam's image problem in America with a poster campaign
Result:
 Not awarded

Brief 4: Tax Lottery
Judge: 
Ramsey Naja, Chief Creative Officer of JWT Middle East & Africa
Brief:
 Tax is a necessary evil. Make it cool.
Result:
 Bronze
Judge:
Eva Van Den Bulcke, Co-Creative Director and Partner, Sid Lee Montreal
Brief: 
Put the failure of the war on drugs back on the global social agenda
Brief 7: Sustaining Singapore + Red Cup Rendezvous
Judge:
 Melvyn Lim, Executive Creative Director OgilvyOne Singapore
Brief:
Encourage Singapore, Asia or even the World to make more babies
Result:
 Silver (Sustaining Singapore) + Shortlist (Red Cup Rendezvous)
Brief 8: Suncorp Kidstarter + Suncorp Unloyalty Program
Judge: 
SOAP Creative Head Honchos: Ashley Ringrose (Founder & Technical Director), Bradley Eldridge (Partner & Executive Creative Director), Ross Raeburn (Managing Director) & Michael Hughes (Creative Director)
Brief:
Get people signing up for a new transaction account with no budget to do anything above the line
Result: 
Two shortlists